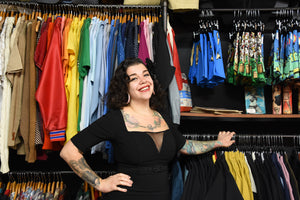 We want YOUR vintage!
One of our most frequently asked questions here at Abernathy's, is 'Do you buy vintage?'. Yes! We would love the opportunity to buy your vintage clothing! Here's what we're looking for:
Men's and women's clothing from the 1930s through the mid 1960's
Coats (seasonally)
Women's dresses, tops, skirts, and pants
Men's shirts, t-shirts, sweaters, hats
Bakelite Jewelry
Turquoise Jewelry
Vintage lingerie 
Purses and bags
Band Tshirts 1960's to early 2000's (Yes! That's vintage now)
WEIRD STUFF
Taxidermy
Antique medical equipment
Bones or fossils
Anything macabre or spooky!
Here'e a short list of things that we don't sell so well that we'll usually pass on
Kid's clothes
Wedding dresses
Costume jewelry
Vintage home décor
Gloves
Women's hats
Nightgowns and slips
Shoes and hosiery
Modern clothing
We do buy modern clothing if it is gently used Pinup or Alternative brands like:
Pinup Girl Clothing
Vixen by Micheline Pitt
Hell Bunny
Collectif
Voodoo Vixen
Steady Clothing
Sourpuss
Unique Vintage
Modcloth
Trashy Diva
Lux Deville
Pretty much any brand we carry in the store, we'll buy back!
If the stuff you're looking to part with fits in one of these categories, then you're in luck! You can bring them down to the shop, and we will make you an offer in CASH. No need to make an appointment, just come in 10-6 Mon-Thur and see Becca. She is human and takes days off, so you can always call ahead to confirm if you're making a special trip. Your items don't need to be spotlessly clean or in perfect condition, but a lint roller never hurt anyone if you have fur babies. 
STILL have questions? Call or text Becca, our vintage buying guru at 563-650-9463 or visit in store at 432 W. 3rd St. Davenport, IA 52801
---